Custom Made Furniture
We are based in Dublin and operate from a purpose built workshop producing an unlimited range of custom made cabinetry and bespoke furniture.
We specialise in domestic and commercial projects both large and small. With an extensive experience in delivering projects on time and on budget we can offer an all inclusive service and supply everything needed for the completion of the job using premium and high quality materials. We will help you bring your ideas to life and meet your personal requirements quickly with ease.
We offer design service that will help you visualise your project through drawings and offer expert advice on styles and colour finishes. Our designer will use exact dimensions of your available space and the desired furniture to give you an exact idea of how it'll fit into your available space. Our fitting service is preformed by our experienced carpenters with efficiency and professionalism.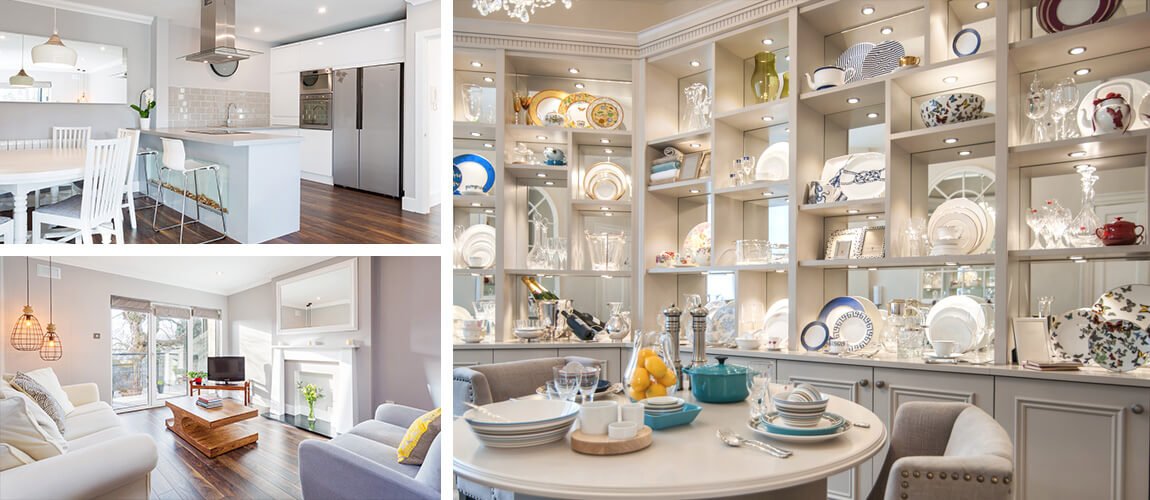 Cabinet Makers in Dublin
We offer a variety of different cabinetry as part of our bespoke furniture manufacturing service. Our carpenters have attention to detail when creating beautiful timeless custom made cabinets.
Alcove Units
Filling your alcoves with bespoke units is a quick way to add more storage and refresh the feel of your room. You can design your alcove units with different feature like floating shelves, open shelving and cabinets. We offer finishing your units with a colour of your choice and our carpenters will fit them into your home.
Kitchen Cabinets
By adapting your ideas in making perfect kitchen cabinets we can help you open up your visual space, increase functionality and make sure all your kitchen appliances are neatly organised. We offer cabinets with glass doors both frosted and clear, open shelving and cabinets that extend all the way up to the ceiling.
Bathroom Cabinets
Bathroom cabinets of various styles, whether they are floating cabinets or freestanding we will help make your bathroom look unique. Our designer will help you compile your ideas into a your own custom design that will be aesthetically pleasing and functional making the most of your available space.
Why Custom Furniture
You'll be interested in custom made furniture if you want something unique and you want to have an opportunity to participate in creating a piece of furniture that will last you a lifetime. There are two reasons you might choose custom made furniture.
Design
By creating your unique design you can choose the desired shapes for storage and display, you can hand pick the knobs, trimmings and create your own carvings. Cabinet doors, bedroom furniture or bunk beds can be anything you want them to be and it will only be achievable through creating a custom made piece. For example you can either choose pre-made radiator covers or create a custom design assembled by our experienced cabinet makers.
Fittings
Custom made furniture is made to fit available space flawlessly. Having unusual dimensions or fitting a piece of furniture into a room maximising it's use is one of the reasons why furniture is made to measure. We also provide finishing options like adding lights or applying the shade of colour you're after.
Having your space customised to your tasted and functionality is life changing. Have a look at our past bespoke furniture projects that have custom made by us to suit our clients homes and lifestyles.
If you have a project in mind and you wish to put your ideas together we are happy to help you create your unique design. Get a quote today.