Bespoke bookshelves and bookcases is a fun and creative way to bring in some personality into your room. It's not just a way to store items creating a clutter free environment but also a way of making a place aesthetically satisfying.
There are different types of shelves with different proportions, open backs and floating shelves. The variety is huge and depending on your lifestyle, your needs and your personality, you may be attracted to one type of shelving over another.
By focusing on the aspect of styling the bookshelves and bookcases you will see what type of shelving and finishing will suit you most. Follow the styling tips below to see which design appeals to you the most.
Bookshelves Background
A dark background can help the items on a bookshelf to stand out creating a dramatic impact. This will be effective if you have large and bold items to display. This type of background will require a styling skill in arranging the items in a particular order so they fit in organically as a whole when grouped or on their own.
Bookshelf Layout
It is interesting to note that the type of shelving design can influence the way you arrange your items on the bookcase. With a disproportionate bookshelf you will find it challenging to carry symmetry all the way through. However a relatively traditional and proportional bookshelf will be able to showcase items arranged through either complete symmetry or creative groupings.
A well-designed and properly organised bookcase is a must for every book lover, ensuring that you can find your favourite books easier and keeping a sophisticated air around the space. Light — especially natural light coming through clean windows — will help display your book collection adequately and make the room look more inviting. You can either make sure to keep on top of your window cleaning needs or you can always book a professional window cleaner in your area to do it for you regularly.
Arrangement for Bookshelves
The design of the shelves chosen by you will help you arrange the items according to their sizes. Keep an eye on how big or small the shelves are. Don't overwhelm a shelf with an item that is too big and try to leave enough breathing space for the item on the shelf to make the it stand out more.
Size of Bookshelves
Our eyes naturally seek out to group similar items together so placing complementary shapes and colours will help you group them. If you want to make your items to work together try think of them as a single unit.
Decide on the overall style, colour and the theme of the bookshelf to make it easier for you to create groupings. Once you have the theme and the type of items you will have an idea of how big the design of your shelves should be.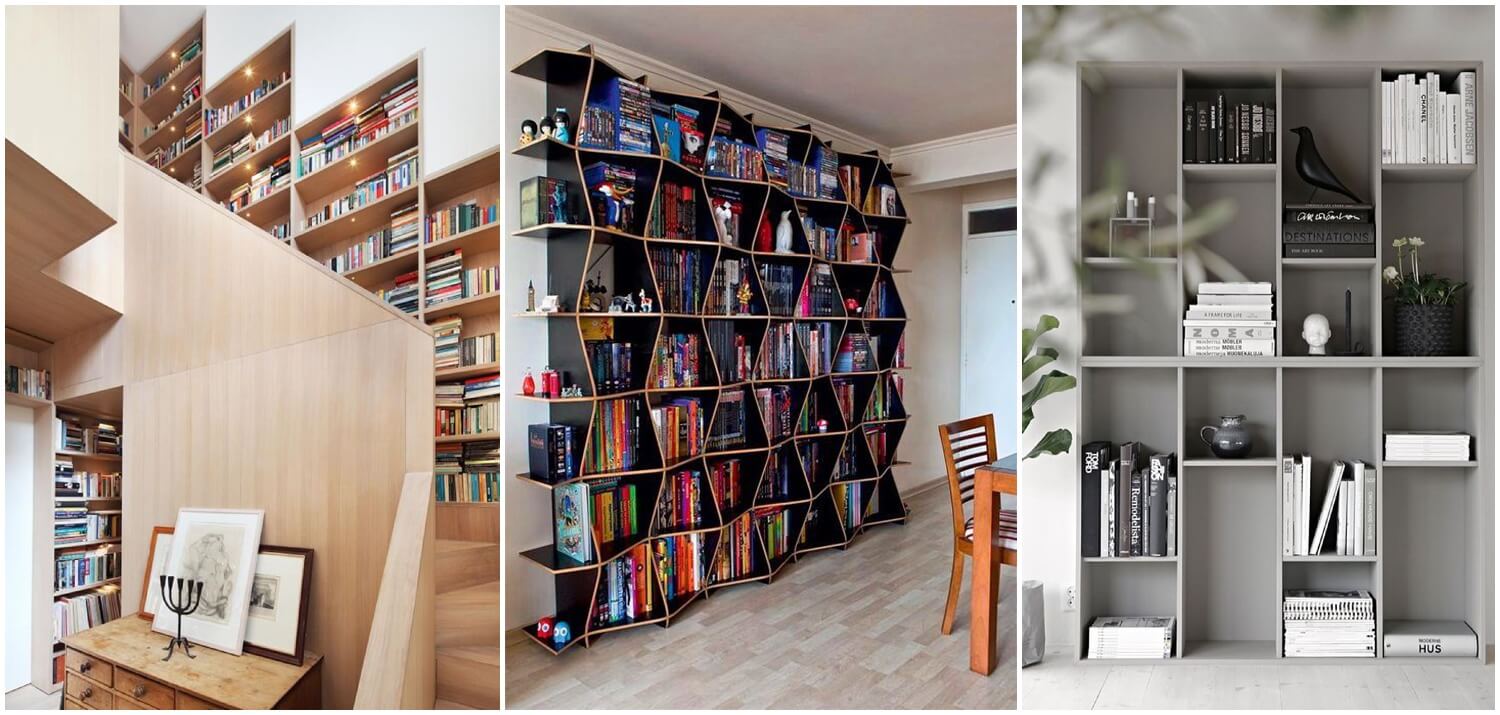 Contrast on the Bookshelves
The contrasting effect can be achieved through the use of colour for the background of the bookshelves. You can also consider contrasting a group of items with a different shape, texture and a pop of colour. For example, a stack of books will be pleasantly contrasted with a decorative item such as a piece of art, a vase or a plant.
Depending on how you like to group your items, whether it's complete symmetry or a creative mix it will determine the mood of the bookshelf. If you're like to change things up once in a while it is advisable to stick to a relatively symmetrical design of the bookshelf as it will be easily adapted to any style you want.
Having bookshelves in your house may push you to create built in furniture like fitted wardrobes. We love working with our clients ideas especially when one project leads to the next.