There is a rising need to make spaces look bigger and brighter through the use of contrasting wall colours and mirrors. One way to make a space feel airier and larger is through the use of mirror wardrobes that will also enhance the room decor and add character to the room.
Types of Wardrobes
There are a few different types of mirror wardrobes to consider for your bedroom.
Sliding Wardrobe Doors
These mirror wardrobes are great room savers. Their attractive feature lies in the the fact that you don't need extra space for the doors to open into the room. This means that it can be ideal for tight and small rooms.
Standard Wardrobe Doors
Wardrobes with standard doors may have mirrors attached to one half of it or to the entire exterior of the wardrobe. Freestanding mirror wardrobes such as armoires make a beautiful and authentic addition to a bedroom. There are many popular styles of wardrobe doors in Ireland right now, and for inspiration for wardrobe doors you can check out these styles.
Folding Wardrobe Doors
Folding mirror doors is an elegant solution for a wardrobe. It makes for an authentic piece of furniture that is both practical and stylish. This option would suit smaller spaces. Our team specialises in bunk beds that can increase even more space in busy children's rooms.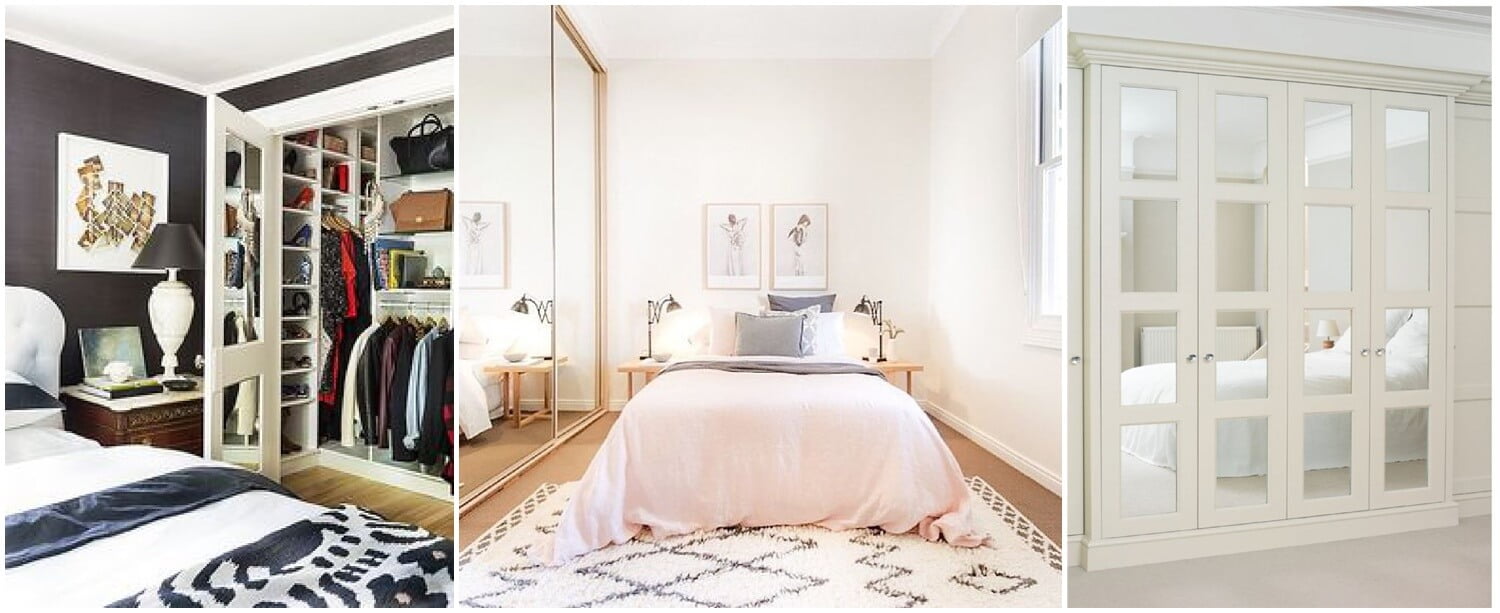 Types of Mirror Wardrobes
Paneled Mirror Wardrobes
Panelled mirrors can be customised to suit your personal taste. They can be half covered with different exterior panels creating patterns and texture, or customised to cover the entire wardrobe seamlessly for a clean and minimalist effect.
Framed Mirror Wardrobes
Framed mirrors make for a truly unique look of a wardrobe. Ornate frames surrounding the mirrors on the exterior of wardrobe can suit a design with traditional design elements and become a statement piece of a bedroom.
These are also called shaker style, and this is a highly sought after style for wardrobe doors. If your wardrobe is not standard size and you want to change the doors, your only option will often be ordering bespoke wardrobe doors which are fully made-to-measure and can be fitted with a custom cut mirror.
You can often choose the width of the frame, or you can get fretwork wardrobe doors in which the mirror can be seen behind an intricate pattern.
Interior Mirror Wardrobes
If you prefer to have your wardrobe without an exterior mirror and you don't want to occupy your bedroom space with a freestanding mirror you can use the interior of your wardrobe door to install it.
Backlit Mirror Wardrobes
It is very common to install your wardrobe opposite a window. The light coming from the back will create a hazy effect when looking into the mirror during daylight. To solve that you can backlight your mirrors for a better effect that will come in handy in darker days of the year.
There are lots of option to make your custom mirror wardrobe unique. A mirror wardrobe provide a sleek and elegant solution in making the space look larger, tidier and more luxurious. Upgrading your wardrobes it is a good idea to updated your interior decor with radiator covers for a complete look.