Making your radiator into a beautiful element of interior design using a radiator cover will make it blend in softly with the overall theme of the decor. With many customisable advantages of radiator covers you can be creative with sizes and designs to make it truly your own unique feature in your home.
Custom Radiator Cover Sizes
With the desire to cover up your radiators you will have to measure the size of your radiator and decide whether you want to oversize it or keep it slim. A custom  radiator cover will be made to measure so that it fits without leaving anything exposed. Taking into consideration the style of your room you may want to oversize the cover making it extra wide and into a statement piece in the room. However if space is something you want to keep without overpowering the room with the size of the cover, you can order it to be slim so it blends into the room decor.
Radiator Cover Designs
If your home has a traditional style and you want to maintain the integrity of your home you can customise a radiator cover complementing those features using a victorian design. Modern houses can be dressed up with a traditionally designed radiator cover to breathe in a sense of warmth and familiarity into your room.
There are no rules in mixing the two styles together as it's the general feel of the room that will show you whether it'll need a calm and simple radiator cover or the one that has more detail in it.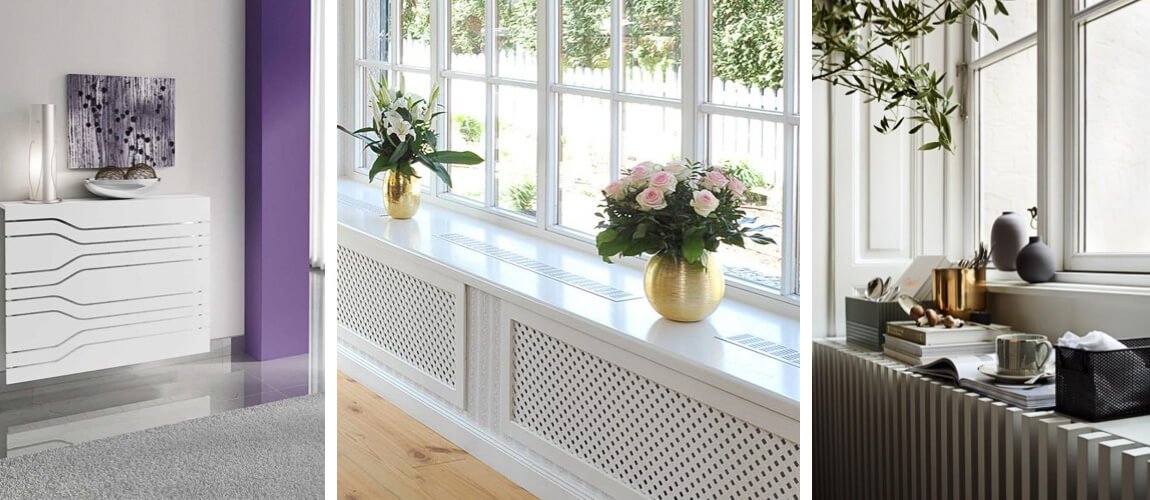 Radiator Cabinet Finishes
If you're looking to add some personality to your room you can do that by choosing a particular finish colour. It can either be matching the walls, tying in the overall colour scheme of the room or in contrast with them. Radiator covers that are coloured to pop off the wall will be a strong defining element in a room creating a layered, cosy feel.
Achieving a timeless look that will age beautifully can be done through whites, greys and neutrals especially if you want to level your windowsill with the radiator cover to for a neat and built in look.
A balanced feeling is always something we want to see in our homes. Whether you decide to go for a bold or a timeless look, covering your radiators is a stylish way to achieve a sense of unity in your interior decor.
Our skilled woodworking company can produce a one of a kind radiator cover. The in house designers are happy to attend to your needs and ideas. By working together we can achieve unique results.