Kitchen Cabinets
Custom Made Kitchen Cabinets and Bespoke Kitchens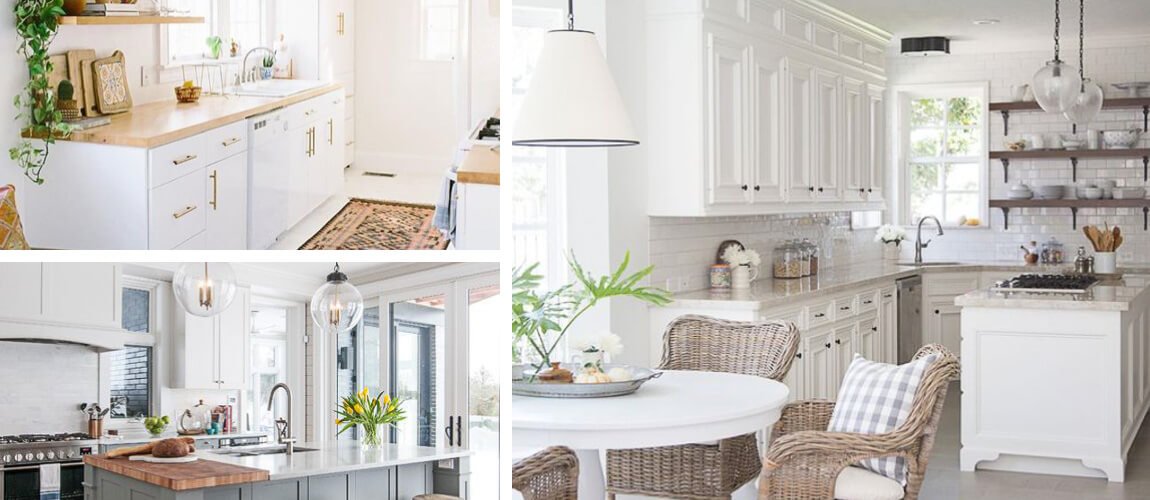 A kitchen renovation is an exciting journey that consists of many choices and decisions. It appears to be a family's most often used room in the house and making it perfect may require you to indulge in some inspiring ideas.
So before you jump into deciding on making radical changes, it's time to get some creative juices flowing by exploring the possibilities of what's aesthetically pleasing to the eye in your home.
The first step is to make a decision between buying ready made kitchen units or having them custom made. No kitchen is the same and custom made units will always be the best option if you wish to avoid gaps in awkward places by covering little nooks and constructing a unit to suit your design tastes.
You may have a few personal preferences such as hiding the pipework, incorporating the exhaust hood into the interior seamlessly, designing the cabinets to be a desired height and making your storage space beautiful and practical.
Open Shelving
Open shelving in the kitchen may come across as industrial and loft-like in style but can be designed and fitted tastefully with a lot more to offer.
This feature can visually increase space in your kitchen or merely bring a fresh and new feel into it. Open shelving is a fun way to style a kitchen by decorating it with statement pieces for texture and colour, books for personality and tableware of different levels for depth and perspective.
Open shelving is great in smaller kitchens. Shelves can be placed above dining tables without impeding their use. These shelves can hold decorative items, but also jars of ingredients and napkins for a more traditional look.
Dining tables come in many shapes and sizes and it's easy to find one that will use your space perfectly on DiningTables.ie. You can browse a great variety of dining sets by clicking here, and you can always choose a design that compliments the rest of your kitchen.
For shelves above dining tables or any other kind, a beautiful design detail can be achieved through attachments of the shelves that come in metals finished with brass, brushed steel, chrome, black, white and many others.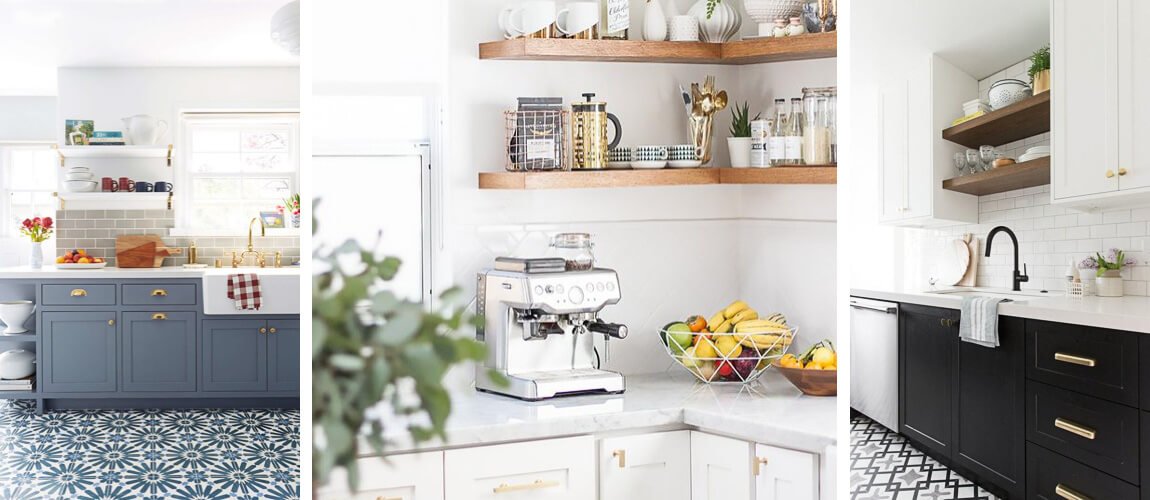 Go Bold or Timeless
Finish your units with bold colours such as dark navy, emerald green, plum or retreat to a palette of sage, pastels, greys and whites.The type of kitchen that will be able to carry a bold colour is a kitchen that has a lot of natural light. A darker finish will absorb the light but you can compensate it by finishing the floor in lighter tiles and install white marble countertops. A look of a timeless kitchen, that will never go out of fashion, is mainly achieved through greys and whites. It is a way to create a luxurious but less dramatic look to your kitchen brightening up the space.If you don't want to take a risk of overpowering the kitchen with bold colours or making it bland with neutrals, you can explore the combination of two finishes to balance it out.
Styling the Cabinet Doors
If you don't know what type front to choose for the cabinet style, we can narrow it down for you to two choices: Paneled Style, a traditional option or a flat and minimalist modern option.Have a think of your house as a whole. If it's a period home and the architecture is traditional you can mirror that style in your cabinets. A modern house will be able to carry both styles either flat or paneled. Design rules aren't set in stone and can be broken. Whatever feels like it will be able to maintain the overall character and personality of your home, will be the right choice.Having in mind these details should set you right on track in filtering out colours, textures, styles and types of shelving. You don't have to follow the new trends, just do what feels right for you!Alcoves can occur as a result of kitchen renovation, whether you're adding extra storage areas or extending. Our team specialises in built in
alcove units
that will help you make the most of the awkward spaces.
Latest Kitchen Cabinets